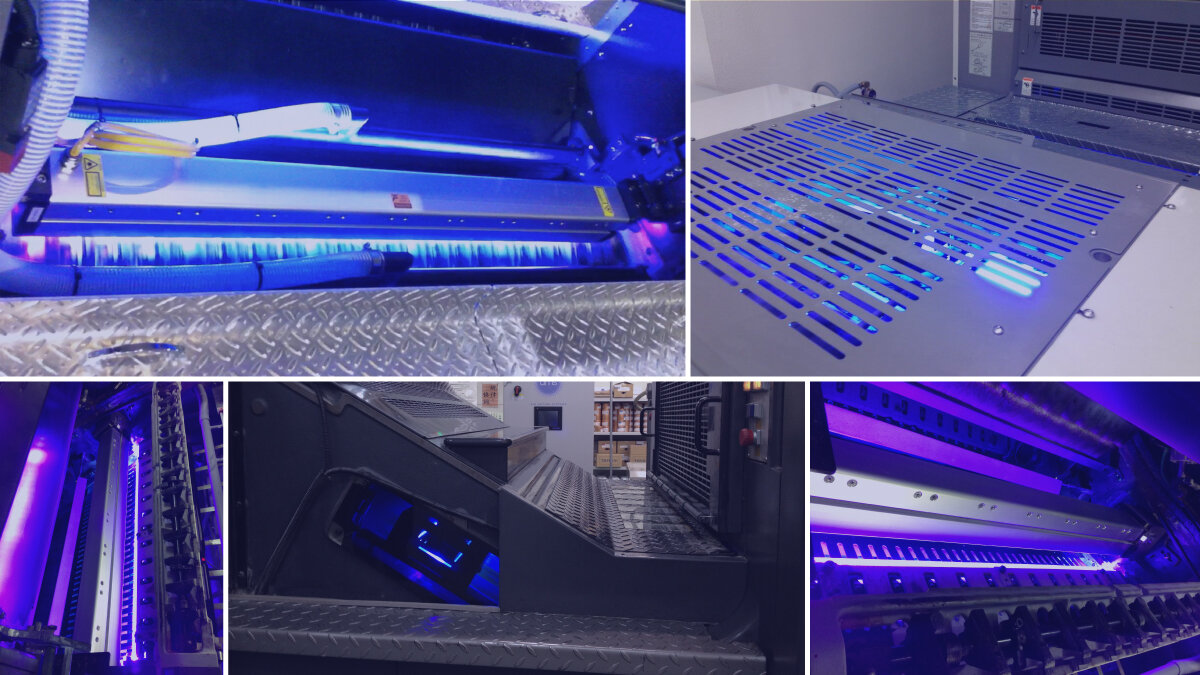 LED-UV For Sheetfed Offset Printing
AMS Spectral UV is the world's leading provider of LED curing systems for offset printers. Our UV-LED systems help increase press speeds, enable the use of special effects and unique stocks, and offer a host of other benefits - learn more below.
Realize the benefits of LED for sheetfed offset printing by using the most respected and trusted system available on the market today.
AMS Spectral UV manufactures LED-UV curing systems for sheetfed offset printing, with ready-to-go solutions for 20", 30" and 40" press widths, and custom/bespoke solutions for any other specified width of press. We are the world's leading supplier of LED systems to the SFO (sheetfed offset) printing industry, and have installed and supported more LED-UV systems than any other manufacturer in the world in this niche.
We've equipped thousands of SFO presses and can readily retrofit UV LED curing systems onto presses from Akiyama, Heidelberg, KBA (now known as Koenig & Bauer), Komori, Mitsubishi, manroland, Ryobi (RMGT), Sakurai and Shinohara, among others - we can also work directly with your press's manufacturer to equip your new press with our UV-LED curing technology.
THE PROCESS:
Prior to installation your press measurements will be gathered and its specifications confirmed via our engineering team, to ensure our curing equipment fits perfectly into your specific setup.
A common system configuration consists of 1-2 LED lamps, typically mounted at the end of the press at an interdeck location pre-coater, or in the upsweep delivery location post-coater. Your complete system also will include a power-and-control unit, and a chiller.
Our LED UV systems bring energy-efficient, heatless curing to sheetfed offset lithographic printing. Gone are powder-filled pressrooms, expensive IR/hot-air dryers, marking problems and waiting for sheets to dry. No other system provides the intensity, flexibility and fast return on investment that one finds with AMS Spectral UV's family of LED-UV curing products.
With simple installation on nearly any type of press, our goal is to help customers reinvent their conventional sheetfed offset printing operations to embrace the benefits of LED-UV curing, which includes a higher quality end product digital turnaround speed.
Contact us using the form below to request a quote for an LED-UV curing system for your press, or call +1 855 967 0687.